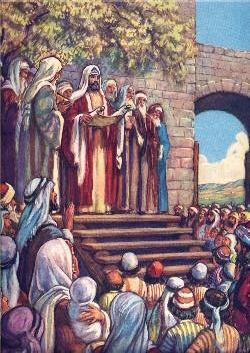 Seven Sabbaths
"And ye shall count unto you from the morrow after the Sabbath, from the day that ye brought the sheaf of the wave offering; seven Sabbaths shall be complete:
Even unto the morrow after the seventh Sabbath shall ye number fifty days; and ye shall offer a new meat offering unto the LORD.
Ye shall bring out of your habitations two wave loaves of two tenth deals: they shall be of fine flour; they shall be baken with leaven; they are the firstfruits unto the LORD."
Leviticus 23:15-17
"And ye shall proclaim on the selfsame day, that it may be an holy convocation unto you: ye shall do no servile work therein: it shall be a statute for ever in all your dwellings throughout your generations."
Leviticus 23:21
Pentecost is representing the day God gave the law on Mount Sinai. It was a day for teaching and instructing the people.
At the time of the assembled disciples on the day of Pentecost, the Holy Spirit was given and shown by tongues of fire on each persons head. They were blessed with wisdom and understanding, how to share the plan of salvation and were given the ability to speak languages they did not know.
The Holy Spirit has been working on hearts through all the history of the world. In the final days of this world, the Holy Spirit will be given in great measure to the faithful who have not one spot or stain of sin in their life, after the cross.
-------------------------------------------
"The work will be similar to that of the day of Pentecost. As the "former rain" was given, in the outpouring of the Holy Spirit at the opening of the gospel, to cause the upspringing of the precious
seed, so the "latter rain" will be given at its close, for the ripening of the harvest. "Then shall we know, if we follow on to know the Lord; his goingforth is prepared as the morning; and he shall come unto us as the rain, as the latter and former rain unto the earth." [1 HOSEA 6:3.] "Be glad then, ye children of Zion, and rejoice in the Lord your God; for he hath given you the former rain moderately, and he will cause to come down for you the rain, the former rain, and the latter rain."[2 JOEL 2:23.] "In the last days, saith God, I will pour out of my Spirit upon all flesh."
"And it shall come to pass, that whosoever shall call on the name of the Lord shall be saved."[3 ACTS 2:17, 21.]
The great work of the gospel is not to close with less manifestation of the power of God than marked its opening. The prophecies which were fulfilled in the outpouring of the former rain at the opening of the gospel, are again to be fulfilled in the latter rain at its close. Here are "the times of refreshing" to which the apostle Peter looked forward when he said, "Repent ye therefore, and be converted, that your sins may be blotted out [in the investigative Judgment], when the times of refreshing shall come from the presence of the Lord; and he shall send Jesus."[4 ACTS 3:19, 20.]
GC88 611