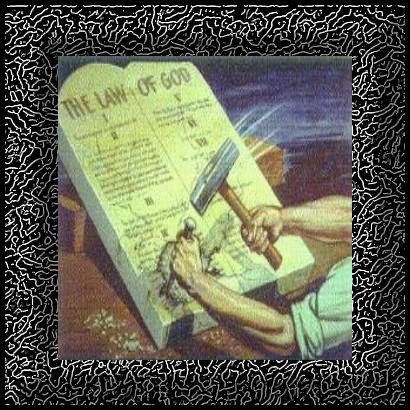 Enforced By Law
"The Sabbath will be the great test of loyalty; for it is the point of truth especially controverted. When the final test shall be brought to bear upon men, then the line of distinction will be drawn between those who serve God and those who serve him not. While the observance of the false sabbath in compliance with the law of the state, contrary to the fourth commandment, will be an avowal of an allegiance to a power that is in opposition to God, the keeping of the true Sabbath, in obedience to God's law, is an evidence of loyalty to the Creator. While one class, by accepting the sign of submission to earthly powers, receive the mark of the beast, the other, choosing the token of allegiance to divine authority, receive the seal of God.
"Heretofore those who presented the truths of the third angel's message have been often regarded as mere alarmists. . . . But as the question of enforcing Sunday observance is widely agitated, the event so long doubted and disbelieved is seen to be approaching, and the third message will produce an effect which it could not have had before."
"As the controversy extends into new fields, and the minds of the people are called to God's downtrodden law, Satan is astir. The power attending the message will only madden those who oppose it. The clergy will put forth almost superhuman efforts to shut away the light, lest it should shine upon their flocks. By every means at their command they will endeavor to suppress the discussion of these vital questions. The church appeals to the strong arm of civil power, and in this work papists and Protestants unite. As the movement for Sunday enforcement becomes more bold and decided, the law will be invoked against commandment-keepers. They will be threatened with fines and imprisonment, and some will be offered positions of influence and other rewards and advantages as inducements to renounce their faith. . . . Conscientious obedience to the Word of God will be treated as rebellion."
"The enforcement of Sunday-keeping on the part of Protestant churches is an enforcement of the worship of the Papacy--of the beast. Those who, understanding the claims of the fourth commandment, choose to observe the false instead of the true Sabbath, are thereby paying homage to that power by which alone it is commanded. . . .
"When Sunday observance shall be enforced by law, and the world shall be enlightened concerning the obligation of the true Sabbath, then whoever shall transgress the command of God, to obey a precept which has no higher authority than that of Rome, will thereby honor popery above God.
RH, April 27, 1911