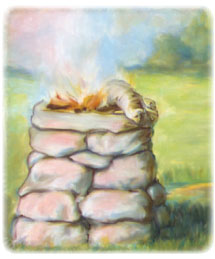 Restore The Paths
"….In every sacrifice Christ's death was shown. In every cloud of incense His righteousness ascended. By every jubilee trumpet His name was sounded. In the awful mystery of the holy of holies His glory dwelt."
D A 211
"Thy way, O God, is in the sanctuary: who is so great a God as our God?"
Psalms77:13
"And they that shall be of thee shall build the old waste places: thou shalt raise up the foundations of many generations; and thou shalt be called, The repairer of the breach, The restorer of paths to dwell in." Isaiah 58:12
"For verily I say unto you, Till heaven and earth pass, one jot or one tittle shall in no wise pass from the law, till all be fulfilled."
Matthew 5:18
"And if any man shall take away from the words of the book of this prophecy, God shall take away his part out of the book of life, and out of the holy city, and from the things which are written in this book."
Revelation 22:19
And at midnight there was a cry made, Behold, the Bridegroom cometh; go ye out to meet Him.
Matthew25:6
In the time of the end every divine institution
is to be restored. The breach made in the law at
the time the Sabbath was changed by man, is to
be repaired.
P. K. p 678