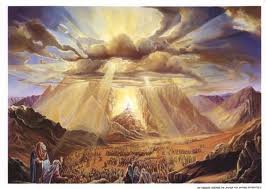 Pattern
The direction given to Moses was, "See . . . that thou make all things according to the pattern showed to thee in the mount" (Hebrews 8:5). Although Moses was full of zeal to do God's work, and he could have the most skillful, talented men to carry out any suggestions he should make, he must not make a single thing, a bell, a pomegranate, a tassel, or a fringe, or a curtain, or any vessel except according to the pattern showed to him as God's ideal. . . . Forty days the communications were given to him, and when he descended to the foot of the mount he was ready to give the exact pattern that was shown to him in the mount. . . .
HP 147
--------------------------------------------
In the precepts of His holy law, God has given a perfect rule of life; and He has declared that until the close of time this law, unchanged in a single jot or tittle, is to maintain its claim upon human beings. Christ came to magnify the law and make it honorable. He showed that it is based upon the broad foundation of love to God and love to man, and that obedience to its precepts comprises the whole duty of man. In His own life He gave an example of obedience to the law of God. In the Sermon on the Mount He showed how its requirements extend beyond the outward acts and take cognizance of the thoughts and intents of the heart.
The law, obeyed, leads men to deny "ungodliness and worldly lusts," and to "live soberly, righteously, and godly, in this present world." Titus 2:12. But the enemy of all righteousness has taken the world captive and has led men and women to disobey the law.
AA 505