"Thy way, O God, is in the sanctuary:
who is so great a God as our God?"
Psalms 77:13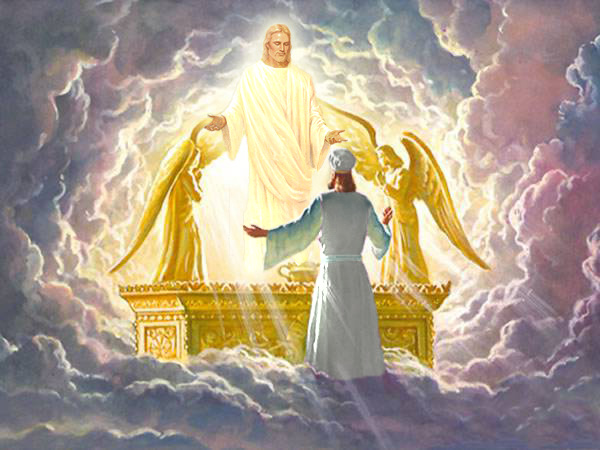 Sanctuary Prophecy
"Moreover I will make a covenant of peace with them; it shall be an everlasting covenant with them: and I will place them, and multiply them, and will set my sanctuary in the midst of them for evermore.
My tabernacle also shall be with them: yea, I will be their God, and they shall be my people.
And the heathen shall know that I the LORD do sanctify Israel, when my sanctuary shall be in the midst of them for evermore."
Ezekiel 37:26-28
"In every page, whether history, or precept, or prophecy, the Old Testament Scriptures are irradiated with the glory of the Son of God. So far as it was of divine institution, the entire system of Judaism was a compacted prophecy of the gospel. To Christ "give all the prophets witness." Acts 10:43. From the promise given to Adam, down through the patriarchal line and the legal economy, heaven's glorious light made plain the footsteps of the Redeemer. Seers beheld the Star of Bethlehem, the Shiloh to come, as future things swept before them in mysterious procession. In every sacrifice Christ's death was shown. In every cloud of incense His righteousness ascended. By every jubilee trumpet His name was sounded. In the awful mystery of the holy of holies His glory dwelt."
DA 211
-----------------------------------------------------------
Do we know where Jesus is and what he is doing for us? The angels are keeping record of all that is going on in this world. When somebody is seeking the Lord for forgiveness of their sins, Jesus presents His blood to the Father on behalf of the repentant sinner. We are all sinners and Jesus is so precious to do this for us in dying to save us. Jesus is our sin bearer and the final lamb to be offered as a sacrifice for sin. We need not slay an animal to show we are sorry for our sins, but we do have to come to Jesus in repentance and sorrow and turning away from all sin in order for Him to forgive us and save the repentant sinner.
-------------------------------------------
"The subject of the sanctuary and the investigative judgment should be clearly understood by the people of God. All need a knowledge for themselves of the position and work of their great High Priest. Otherwise it will be impossible for them to exercise the faith which is essential at this time or to occupy the position which God designs them to fill. Every individual has a soul to save or to lose. Each has a case pending at the bar of God. Each must meet the great Judge face to face. How important, then, that every mind contemplate often the solemn scene when the judgment shall sit and the books shall be opened, when, with Daniel, every individual must stand in his lot, at the end of the day."
G C p 488
Contact
Joyce Weber
Box 1081
360 Ferry Landing Place

Hope,
British Columbia
Canada
VOX 1L0
e-mail
midnightcry1844@uniserve.com
Sites:
Come Home To Health
http://comehome.yolasite.com
Recipes
Mountain Top
climbthepeak.net/
Beauty Of Jesus
beautyofjesus.yolasite.com
The Sweetness Of Music
http://thesweetnessofmusic.com
Bath-sheba
http://bath-sheba.yolasite.com
Deception
http://deception0.yolasite.com
Light Of Prophecy 1844
lightofprophecy1844.yolasite.com
From The East
http://TheKingIsComingFromOrion.yolasite.com
Stories For Children
Majestic Harmony
Deception
From The East
Climb The Peak
Poems To Ponder
What About Tomorrow
From The Lips Of Jesus
Miracles
Melody To Jesus
Mother's Touch
Persecution
Dreams
http://dreamsoo.yolasite.com
Poetry Of Motion
Stories For Children
A Mother's Touch